Faith Community United Church of Christ Bensenville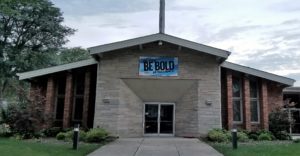 192 S. Center Street, Bensenville, Illinois 60106
(630) 766-1141
Office Hours: Monday – Thursday 8:00am – 2:00pm
Friday 8:00am -12:00 noon
Sunday Worship 10:00am
Sunday School 10:00am (

Following Children's Message

)
The members of Faith Community UCC greet you, and thank you for visiting our Faith Community United Church of Christ website. FCUCC is a congregation of caring and loving people who together are committed to be the embodiment of Christ's loving and compassionate ministry in the Bensenville community and beyond. This is a church where all are welcomed to share with us in experiencing (or discovering for the first time) what it is to be a faithful follower of Jesus the Christ. While we know that we are not perfect, we do try to be loving and welcoming to everyone who joins us in striving to find a better relationship with Jesus, each other and our world.
Whether you are just visiting the Bensenville area or are exploring our village churches in search of a new faith community to call your home, we hope that you will consider Faith Community United Church of Christ. You are always invited to drop in and experience our worship celebration with us on Sunday morning, and to learn more about what FCUCC has to offer you.
****Special message about in person worship***
Dear Faith Community,
I miss each of you, and all of you together, so very much. It has been a long spring of separation.
I am writing to you after meeting with Council and other church members concerning the protocol that we will need to have in place and follow in order to open for in-person worship. Special thanks to Chris J. whose professional life educates her on the necessary steps we must take to keep everyone as healthy as possible.
We are planning (at this time) to open for in-person worship for up to 50 people total in our sanctuary on Sunday, July 26, 2020 at 10:00 am.
This worship experience will be very different than what we are used to for celebrating in our worship space. The biggest changes are:
– Reservations are required to attend worship – we may have only 50 people total in our sanctuary, all must be at least six feet away from each other at all times, and we must keep a completely accurate attendance list in case contact tracing is a necessity.
– The congregation attending must wear masks at all times, may speak with their masks on, but will not be permitted to sing. Diana F. and Andrea F. will sing with masks on and Joy L. will provide piano music.
– Informal greeting and gathering will not be permitted. As people arrive for worship ushers will ensure at least six feet between individuals/family groups, take each person's temperature (ok to attend worship at 99.5 degrees Fahrenheit and below), instruct each person to use hand sanitizer, and usher individuals/family groups to designated seating in the sanctuary. In order to fill the sanctuary to capacity with required six foot distancing, the ushers will have a map of where people will sit; no one will be able to request particular seating in the sanctuary. Everyone will stay in their assigned seats until the worship is completed. At the end of worship, ushers will invite people to exit, one group at a time (much like a wedding) to maintain the six foot social distancing. No one will shake hands – we'll say goodbye to all at the end of the worship service.
– No bulletins or other handouts will be given during worship. All worship material will be on the screen at the front of the sanctuary.
We will continue to provide video recorded worship on Facebook and YouTube but it will be online later in the day on Sunday. The video will be of the actual 10:00 am worship in the sanctuary and we need time to upload the video on the internet. We will also begin to offer Facebook Live – a live presentation of video recording on a personal cell phone – the quality will be less but the interaction is live. Many, many thanks to Leo, Andrea, and Frank for their technological support for these past three months – countless hours each week!
Please see the detailed "In-Person Worship Guidelines" following this letter.
Please be patient with everyone – none of us have ever done this before. Any questions, please contact the church office (630)-766-1141.
God's continued blessings to you,
Pastor Catherine
**In-Person Worship Guidelines**
1) Make reservations for attending worship the Monday – Thursday 8:00 am to 12:00 noon prior to the Sunday worship by phoning (630)766-1141 Robin at the church office. Please list full names of all in the reservation. We will believe that your whole party can sit together unless you say otherwise. With attendance limited to 50 in Phase 4 and 10 people required to lead worship and facilitate social distancing, we will be able to take reservations for 40 people per Sunday
2) On the Sunday morning, bring your personal protection mask (disposable or cloth) and offering – planning to arrive at the church no later than 9:45 am. We will have hand sanitizer for each person for entry into the church.
3) Put on your mask as soon as you arrive at the church property.
4) Please park your car as usual, but maintain a six-foot distance from any other people. We will have chalk lines placed six feet apart on the sidewalks from the parking lot to the Great Hall door – please observe the social distancing by waiting until others ahead of you move forward.
5) The Great Hall door on Center St. will be the only entrance.
6) Upon entrance, ushers will take the temperature of each person (admitted if 99.5 degrees Fahrenheit or below), take attendance, remind each person to use hand sanitizer, and then seat each party in their reserved place in the pews. As you enter, offering plates will be on stands on either side of the sanctuary doors – please leave your offering in the plates.
Please be patient with this process – none of us have done this before. Plus, as the we get into the heat of the summer, we might have to scan people a couple times to wait to see if their temperature comes down – particularly after having waited outside their forehead may have warmed up.
7) When seated, please remain in your seat. Elizabeth has cleaned (and will continue to clean after each worship service) all the pews with disinfectant and vacuum the pew pads. You may bring your own wipes if you would like to wipe surfaces again. No Bible or hymnal will be in the pews; all handouts have been removed as well. All worship material will be projected on the screen at the front of the sanctuary.
8) Only the two restrooms in the Great Hall will be available for use. Please observe the protocol for washing hands listed in each restroom. No other church rooms will be open.
9) When the worship service has ended, please stay in your seat until asked by an usher to exit the sanctuary. Please follow the six-foot distancing protocol, exit through the Narthex door, and proceed directly (no stopping to talk) to your car and return to your home.