Faith Community United Church of Christ
Fox Valley Association of the Illinois Conference
of the United Church of Christ
are pleased to invite you to the
The Reverend Gregory Sabetta
Sunday, October 15 at 10am
Guests include The Rev. Molly Carlson, Illinois Conference Minister,
Dr. Scott Haldeman, Professor of Worship at Chicago Theological Seminary,
Cantor Michelle Drucker Friedman, Senior Clergy at Emanuel Congregation
along with the High Holy Day Choir under the direction of Pastor Greg.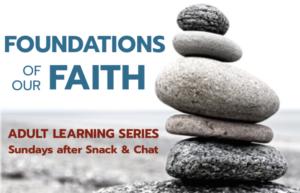 ADULT LEARNING SERIES
Each session explores a foundational element of our faith
in a
casual,
conversational forum facilitated by Pastor Greg.
SEP 24: Worship and Sacraments
OCT 1: Overview of the Bible
OCT 8: The Hebrew Bible
OCT 22: The Christian Scriptures
Snack & Chat
Join us after worship in Dettman Hall for… snacks and chat.
Members and friends volunteer to host our time together.
If you'd like to volunteer, there's a sign-up on the Great Hall bulletin board
Food Pantry Sunday
Food Pantry Sunday is the third Sunday of each month.
We are proud to house and support the Bensenville-Wood Dale Food Pantry in our facility.