Blue Christmas Service
Thursday, December 22, 2022 at 7:00 pm
The winter holidays are supposed to be happy times. Cheerful songs in the stores, bright decorations on the streets, parties with presents and punch. Peace on earth, good will towards God's people, tidings of comfort and joy.
But what if you just don't feel that way?
People mourning a lost loved one often experience a resurgence of grief during holidays.
Holidays are very big times when families have rituals; rituals are predictable, comforting, and provide security. Death interrupts some of those rituals. People are reminded of how much someone's death has affected their lives.
Known by various names – including "Longest Night" and "Remembrance" – this service aims to provide comfort to those who are feeling isolated and alone during this so-called happy time.
It's not just for people in mourning; it could be people who are divorced, people who have S.A.D. [Seasonal Affective Disorder], people with bad family backgrounds and memories of this time of year. There are as many reasons as there are individuals.
All the media this time of year makes it seem like if you're not happy, there's something wrong with you. We want to counteract that message. People really appreciate having a place of quiet amidst the hustle and bustle. Worship is beautiful during December, but there's a joyful pitch, and people who are in pain feel like they don't fit in.
This service is held near the longest night of the year – so the promise is the light of Christ shines through the darkest night. Whatever your grief or pain, the love of Christ, who was born on Christmas Day, will heal. All are welcome and wanted!!
Christmas Eve Candlelight Service
10:00 p.m. Saturday, December 24th
Consider this your invitation to bring the whole family to church on Christmas Eve. We will be celebrating the birth of our Lord Jesus Christ at 10:00 p.m. Come early to hear the hand bell choir ringing Christmas Carols at 9:50 p.m. Stay for the amazing story of the baby Jesus who was born for us and continues to live in us. Let's pack the church! Won't you join us?
Christmas Day Worship
10:00 a.m. Sunday, December 25th
Spend an hour on Christmas morning in prayer and joyful acclamation, celebrating our Savior's birth. Join us for a Christmas Carol Singalong. Come, worship the King! Please note we will not have Snack & Chat after worship.
New Year's Day Worship
10:00 a.m. Sunday, January 1, 2023
What better way to begin 2023 than in worship together! Come, worship with us at 10:00 a.m. Please note we will not have Snack & Chat after worship.
Snack and Chat
Have you been missing our social time after worship? So have we!
Now that many of us are vaccinated, let's get together – safely – in Dettmann Hall.
Wander on over to Dettmann Hall after "in-person" worship.
It's that simple! Sit with your friends and prepare to be amazed! We can visit once again!
Food Pantry Sunday is the third Sunday of each month.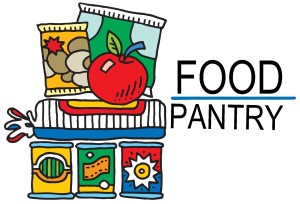 Bensenville/Wood Dale Food Pantry
192 S. Center St.,
Bensenville, IL 60106
Like us on Facebook
For more than fifty years our community has cared about our people without sufficient food on their table. What began as an ecumenical ministry of our faith communities has grown to be supported by the entire community – churches, local businesses, individuals, grocery stores, corporations, school districts, social organizations, civic organizations, etc. In 2019 we established our own 501(c)3 as a community-wide, non-profit organization and our Board of Directors as well as our volunteers reflect this community-wide support.
The Food Pantry is normally open from 8:30 – 11:00 am on Wednesdays and Saturdays serving around 200 people a week with 15-20 volunteers working five days a week to collect, organize, and distribute food. Clients are able to select their own food as in a grocery store. Clients self-identify that they are in need of food – support is not based on income levels.
With the COVID-19 pandemic and shelter-in-place decree, the Food Pantry is now open 8:00-10:00 am on Saturdays only – serving around 500 people a week with 8-10 volunteers working five days a week to collect, package in bags/boxes, and load food into our clients' vehicles. The limited number of volunteers is to safeguard the health of our dedicated volunteers even as it increases their workload. Personal protection equipment (masks, gloves) is worn by all volunteers. Clients are given pre-packaged bags of dry-goods, produce, dairy, meat, bread/desserts, and (when available) personal-hygiene products and household cleansers.
In addition to the community support offered at the Food Pantry primary location on Center St., 50 to 80 bags/boxes each are prepared regularly for distribution at Castle Towers (Section 8 Housing), Fenton High School, Wood Dale Jr. High School, and District #2 schools.
Financial donations to The Food Pantry allow for purchases through Northern Illinois Food Bank where each dollar donated translates to food/products costing approximately $8.00 at retail stores. Donations can be made via checks or e-giving, please see address and website above.
The Food Pantry is currently in need of the following items: canned vegetables, bleach, laundry detergent, toilet paper, body soap, toothpaste, adult diapers, and feminine hygiene products. Donations may be dropped-off any weekday 8:30-11:00 am.