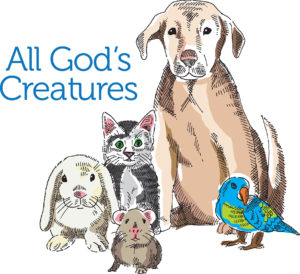 Blessing of the Animals –
Sunday, October 3 at 1:00 pm,
under the carport outside Dettmann Hall
This is a day of serving those we might consider "the least" of the kingdom of God. We gather to honor St. Francis of Assisi, a saint who listened to God, who took care of creation, and who ministered to animals.
Animals are indeed important in our lives. We live with them. We play with them. They give us comfort and joy. But animals also help to nourish us. On this day, we honor both our pets and those animals who give us food, work on our farms, and are part of the cycle of life on our earth.
We also look to the example of Francis of Assisi in serving and giving to others.Come to have your animal receive a personal blessing from Pastor Phil.
Snack and Chat – You bring them both!
Have you been missing our social time after worship? So have we!
Now that many of us are vaccinated, let's get together – safely – in Dettmann Hall.
Wander on over to Dettmann Hall after "in-person" worship.
BRING YOUR OWN SNACK AND DRINK (Sorry, no food, drink, or coffee will be provided)
Leave no trace of food or garbage when you depart.
It'
s that simple!
Sit with your friends and prepare to be a
mazed! We can visit once again!
Bensenville/Wood Dale Food Pantry
192 S. Center St.,
Bensenville, IL 60106
Like us on Facebook
For more than fifty years our community has cared about our people without sufficient food on their table. What began as an ecumenical ministry of our faith communities has grown to be supported by the entire community – churches, local businesses, individuals, grocery stores, corporations, school districts, social organizations, civic organizations, etc. In 2019 we established our own 501(c)3 as a community-wide, non-profit organization and our Board of Directors as well as our volunteers reflect this community-wide support.
The Food Pantry is normally open from 8:30 – 11:00 am on Wednesdays and Saturdays serving around 200 people a week with 15-20 volunteers working five days a week to collect, organize, and distribute food. Clients are able to select their own food as in a grocery store. Clients self-identify that they are in need of food – support is not based on income levels.
With the COVID-19 pandemic and shelter-in-place decree, the Food Pantry is now open 8:30-11:00 am on Saturdays only – serving around 500 people a week with 8-10 volunteers working five days a week to collect, package in bags/boxes, and load food into our clients' vehicles. The limited number of volunteers is to safeguard the health of our dedicated volunteers even as it increases their workload. Personal protection equipment (masks, gloves) is worn by all volunteers. Clients are given pre-packaged bags of dry-goods, produce, dairy, meat, bread/desserts, and (when available) personal-hygiene products and household cleansers.
In addition to the community support offered at the Food Pantry primary location on Center St., 50 to 80 bags/boxes each are prepared regularly for distribution at Castle Towers (Section 8 Housing), Fenton High School, Wood Dale Jr. High School, and District #2 schools.
Financial donations to The Food Pantry allow for purchases through Northern Illinois Food Bank where each dollar donated translates to food/products costing approximately $8.00 at retail stores. Donations can be made via checks or e-giving, please see address and website above.
The Food Pantry is currently in need of the following items: canned vegetables, bleach, laundry detergent, toilet paper, body soap, toothpaste, adult diapers, and feminine hygiene products. Donations may be dropped-off any weekday 7:30-11:00 am.
Faith Community in Action
Crossroads Kids Club at Tioga – One-by-one they arrive at the school – laden with curriculum notebooks – ready to show their identification – allowed to enter the fortress exactly at 3:00 pm – coming with one purpose in mind – to share the love of God and the Good News of Jesus Christ with the Tioga Wolves! (That's the Tioga Elementary mascot – the Wolves). Our first afternoon of Crossroads Kids Club was a success! Thirty-five 3rd-5th grade students attended with 11 volunteer mentor/teachers from Faith Community. The next week we were gifted with forty-five young people with a potential of fifty-four kids with completed sign-up sheets!! Thank God for the growth!! Now we need more mentors!! With awesome Bible storytelling, science projects, praying, singing, crafts, dancing, games, treats, and prizes, our Faith Community crusaders are prevailing even over the offers by parents of "Either soccer or Kids Club!"
Energized by compassion, commitment, and craziness – this team will continue telling the story of God's Love every Wednesday during the school year – until the last Wolves shall lie down with the lambs!
________________________________________________________________________________________
Food Pantry Sunday is the third Sunday of each month.