Greetings from Rev. Greg Sabetta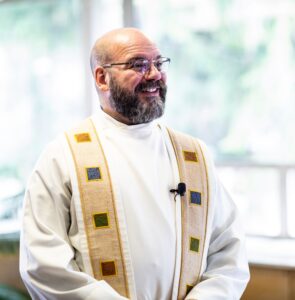 Early church reformer John Calvin said that we're all ministers and the pastor's function is to restore God's people to ministry. As we embark our new ministry together, I look forward to meeting you and finding ways to engage our mutual ministry, to be a force for good, and to be God's hands of compassion and healing in our community and in our world. Together we can continue to do great things!
August 2023
This time of year, is often called the dog days of summer. It's not necessarily because dogs are more lethargic in the heat, but because the constellation known as Canis Major (Dog Star or Sirius) is most prominent in our hemisphere right now, and is associated with elevated temperatures. When temperatures elevate, sometimes tempers do the same.
That's why I think of August as a month to take care of myself, my family, my community, and to be more sensitive to how I interact with those around me. I find that I'm better equipped to take care of others—to see the face of God in them when I take better care of myself.
August is American Adventures Month. This is news to me, but it sounds like a good way to take care of ourselves and have some fun, perhaps an opportunity to try something new. There seems to be a special observance for almost every day of the month, but here are a few I found interesting:
Aug 1: DOGust 1st, Universal Birthday for Shelter Dogs.
Aug 2: National Coloring Book Day. Everybody loves to color!
Aug 6: Farmworker Appreciation Day. Shop your local Farmer's Market.
Aug 10: National Lazy Day. Enough said!
Aug 14: Love Your Bookshop Day. Support your local bookstore.
Aug 20: National Chocolate Pecan Pie Day. Brilliant, right?
Aug 22: Be an Angel Day. Be gentle, be kind, take care.
Happy August! Stay cool, have fun, try something new. And, of course, we pause to give thanks for the blessings we have received, and pass those blessings onto others.