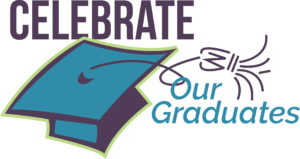 ATTENTION! 2019 GRADUATES…You are invited to a special recognition on Sunday, June 9th during 10:00 worship Please note that Pastor Catherine will be returning from her Sabbatical and will be with us on June 2nd. She is requesting that all high school and college graduates be present for worship on Sunday, June 9th for a special recognition.
Please contact Robin Smith at faithcommunityucc@sbcglobal.net with names. Also, allgraduates should contact the office with this additional information: Name, date of graduation, name of institution graduating from, degree/or concentration of classes, honors, activities/clubs/etc., parents'/grandparents' names. Finally, kindly let us know if you will be able to attend this special service and if you are willing to say a few words about your participation in and relationship with FCUCC. Please RSVP by May 15.
June Special Mission Offering
"Tools of Hope"
will be received on June 16
th
Envelopes for this special mission offering
will be included in the bulletin on Sunday, June 9th.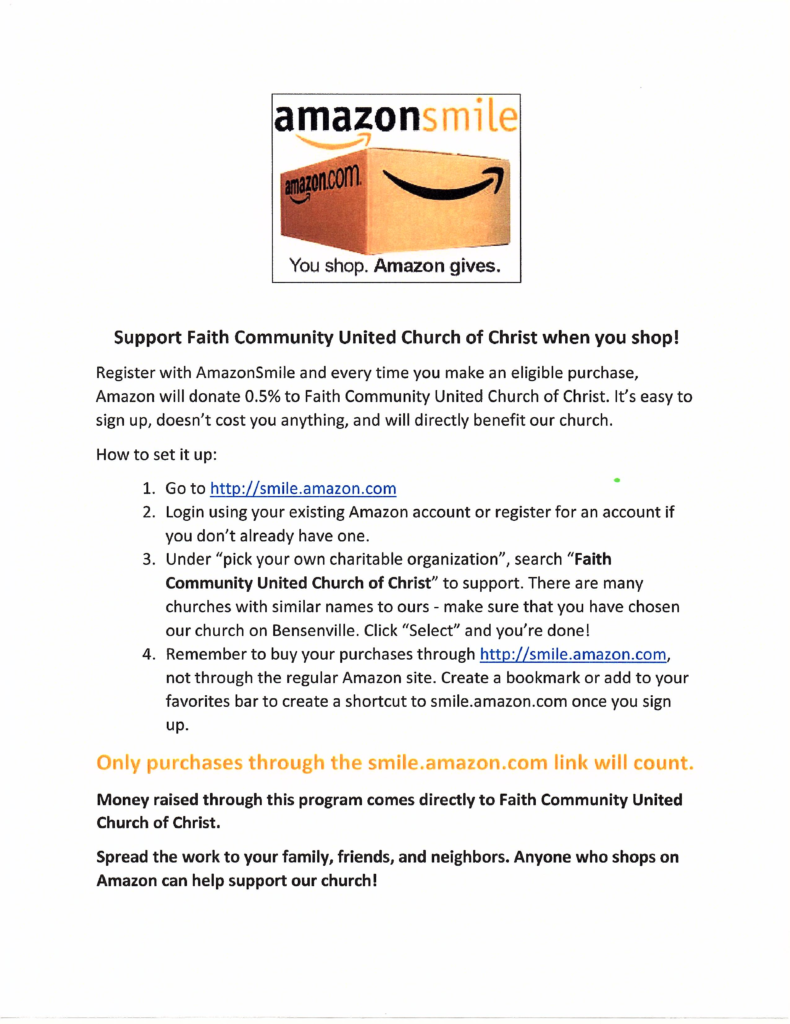 Proverbs 8:1-4, 22-31
Father's Day
School is out and, in the northern hemisphere at least, summer stretches ahead, full of the promise of rest and warmth, rejuvenation and wonder. Maybe you are youthful, and the promise of summer break is so new and fresh for you that you are practically bursting with the excitement of it. Or maybe you are in the middle of life, balancing care for children and elders with work and hobbies, even in the summer. Or maybe you are later in life, and the time for both school and work is past and summer is a season like the others.
Wherever you are on life's journey, listen! Lady Wisdom is calling you. She is calling out in the places you are most likely to be, she is trying to get your attention. What does she want to tell you? "I was there in the beginning," she sings, "delighting and rejoicing in creation."
Wisdom blows into our lives in a rush of joy and pleasure. On this Trinity Sunday, she reminds us that the magnificent labor of the Creator and the redeeming love of the Savior are only two parts of the divine purpose. Wisdom's part – enjoying creation as it unfolds and wandering, without direction but with confidence in the beauty of the divinity – is just as potent.
Wisdom is at the creator's side when all the sweaty-browed work of creation is being done, and Wisdom knows her place is at the Creator's side. She delights in creation but doesn't feel a need to
do
anything. And you know what? The Creator doesn't demand it of her. Maybe Wisdom is showing us that the Creator doesn't demand action all the time from us either. Even if school isn't out for you, you can still take a summer break. Soak in the wisdom of Wisdom, just be in and with creation. Find a moment or a month where there is nothing to do but rejoice in the Creator.
"Life is this simple. We are living in a world that is absolutely transparent, and God is shining through it all the time," writes the mystic Thomas Merton. Take Wisdom's lesson today. See God's shining and delight in it.
Father, Son, Holy Spirit. Sustainer, Redeemer, Creator. Earth-maker, Pain-bearer, Life-giver.* Lover, Beloved, Love. Holy Three in One, immerse us this day in mystery and wonder, and send us forth into your beautiful creation, ready to delight in it. Amen.
*From the New Zealand Prayer Book, published by Harper Collins, 1997.
______________________________________________________________________________________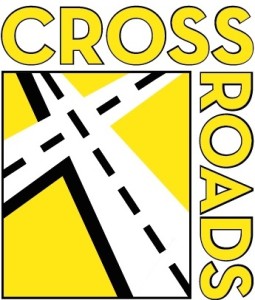 Crossroads Kids Club
A Tioga after school program
See flyers at Tioga or call church office to register
Faith Community in Action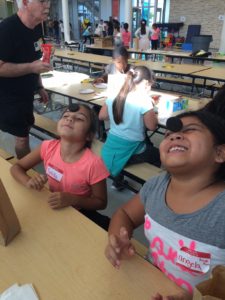 Crossroads Kids Club at Tioga –
One-by-one they arrive at the school – laden with curriculum notebooks – ready to show their identification – allowed to enter the fortress exactly at 3:00 pm – coming with one purpose in mind – to share the love of God and the Good News of Jesus Christ with the Tioga Wolves! (That's the Tioga Elementary mascot – the Wolves).
Our first afternoon of Crossroads Kids Club was a success! Thirty-five 3rd-5th grade students attended with 11 volunteer mentor/teachers from Faith Community. This dynamic team is composed of the following people: Jan Zator, Virginia Skinkys, Marcy Carr, Barb Seltzer, Rexene Carlstrom, Sue and Keith Schmitz, Randy Putman, Leo Figueroa, and Kevin DeCherrie.
The next week we were gifted with forty-five young people with a potential of fifty-four kids with completed sign-up sheets!! Thank God for the growth!! Now we need more mentors!!
With awesome Bible storytelling, science projects, praying, singing, crafts, dancing, games, treats, and prizes, our Faith Community crusaders are prevailing even over the offers by parents of "Either soccer or Kids Club!"
Energized by compassion, commitment, and craziness – this team will continue telling the story of God's Love every Wednesday during the school year – until the last Wolves shall lie down with the lambs!
______________________________________________________________________________________________________________
________________________________________________________________________________________
Helping Hands Circle of Faith Community U.C.C
Helping Hands Circle meets the second Wednesday of each month at 12:30 p.m. in Dettmann Hall.
________________________________________________________________________________________
Food Pantry Sunday is the third Sunday of each month.