Christine "Chris" T. Albiniak ~ December 9, 1952 – December 25, 2020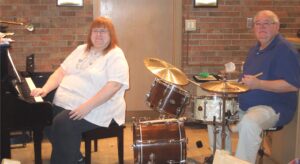 Christine "Chris" Albiniak; loving wife of Michael Albiniak, beloved mother of Michael (Sarah) J. Albiniak, Katharine T. Albiniak, Jacob C. Albiniak, cherished grandmother of Benjamin and Emily Albiniak, aunt and cousin to many. Chris was a lifelong musician who loved making and teaching music both as band director and music teacher in elementary schools for 22 years and as the music director in church for 18 years.
Lovingly submitted by Katie Albiniak
Chris spent 18 years of her life being a part of the Faith Community Family. Know that she treasured every moment. Music was her life – and had been since she was child. She started playing for Church services when she was in grade school. For her to continue to use her talents at Faith in service to God and in service to this congregation was a delight to her.
She loved every time any of you would come up to her after worship and express your appreciation for her music choices. She always made a note of who liked what, either to play it again for a special occasion or to find similar pieces you might like just as much.
To Voices of Faith Vocal and Bell Choir – Know that Chris loved working with you all. Your dedication to her, your enthusiasm, and your willingness to learn and try new music amazed her. She spent many hours listening to and finding music you would enjoy and pieces that would challenge you because she knew you could do it. She was so proud of you and loved you all.
Her favorite quote was a simple, but profound one, "Long after the toys of childhood are forgotten, the gift of music will remain." Chris's legacy to Faith Community is the joy of music she brought to so many of you.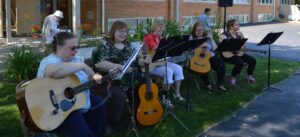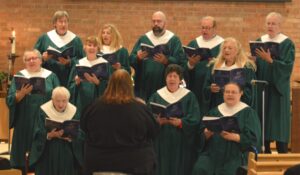 Chris Albiniak was a wonderful friend and mentor to many musicians in our church. She directed our vocal and bell choirs, and played piano and organ for church services. She was a great accompanist who knew how to follow the person doing special music, changing the piano part to bring out the talents of the soloist. She also drew out the best from the choirs, whether the members were experienced musicians or not.
Chris spent many hours scouring the online music websites for anthems that would showcase the choirs' talents. She also spent much time finding "just the right song" when we were to sing a memorial piece for a specific member of the congregation.
Chris helped us catalog the choir pieces into a vocal choir database that could be put in order by title, subject, number of vocalists, etc. It is a great aid when we're searching for music for specific times of the church calendar year.
Chris was the rehearsal pianist for the church's Quartet of Faith, and The Vagabond Singers when we were out singing professionally. She helped us learn many complicated songs, and kept a look out for new quartet pieces that we could provide for our church services. She even helped us by accompanying The Vagabond Singers when our performances included songs that were not suitable as a cappella music.
As friends, Chris and I could be found talking for hours on the phone in the evening, probably at least once a week. We'd talk about music, families, and life in general. I greatly miss her, and her talents of playing piano, finding wonderful music, guiding our musicians, and helping us bring out the best in all our endeavors. – Diana F.
Chris was a good friend and mentor to all of us but especially to me. I enjoyed her silly kid jokes she liked to pull on us. She new her music and she knew how to get us to be our best in vocals and bells. She is sorely missed.
-Cheryl R.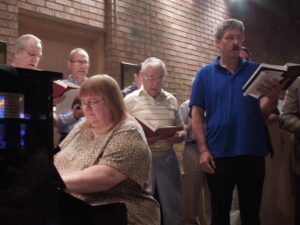 We were so blessed to have Chris be our music director for 18 years. She enjoyed finding new music for us, playing for our services and directing our choirs. Our Bell Choir was challenging for many of us but she was encouraging with lots of humor. We especially enjoyed the cantatas that were presented for many Christmas seasons. Chris was very dedicated and rarely took time off. -Sue S.
~ Chris was always so willing to have the children participate in the service. Rowan always enjoyed talking to her and she was always so patient. -Sondra O
~ Wonderful friend who shared her talents with our church. – Robin T
~Chris Albiniak was more than a choir director. She was a great friend. She led a busy life with students and church duties, but I could still call her when she was off duty, and she was genuinely glad to spend time listening and talking about music, life, and our church. She was a night owl like most musicians and when I could not sleep, I knew Chris was still up till early in the morning and we would have some of the best conversations. We would laugh about the antics of her pets and new songs either of us had heard that might be fun for the choir to do. In a world of texting and voicemails people do not genuinely get to know each other anymore. Genuine people like Chris are rare. I already miss her and will continue to miss her. – Al Thurkow