Daylight Savings Time Begins on Sunday, March 11. Please set your clocks forward one hour or you'll be late for worship!!
You are personally invited to the heartbreaking, authentic, and transformational experience of Lent through our Sunday 10:00 am worship services and:
Luke/Acts Bible Study

each Sunday (January 28 through March 11) at 11:45 am to 12:45 pm in Dettmann Hall. Will and Donna Fairchild will facilitate the study and Pastor Catherine will offer guidance as we bring these two books together again (as their one author intended) so that we can see and experience the Good News according to Luke.
No preparation is needed but study materials will be provided so please contact Pastor Catherine about your interest in this study.
Holy Happenings

on Wednesday evenings (February 21 through March 21) in the sanctuary. We will gather at 6:00 pm and experience worship from 6:15 – 6:45 pm with singing of "oldie but goodie" hymns, consideration of a timely issue of faith, and offerings given to support the Bensenville/Wood Dale Food Pantry. Our series title, "Seek and You Will Find" follows a Seeker interviewing everyday-Biblical-times characters who tell of how Jesus touched his or her life. No food will be served this year.
Engage in these faith-filled offerings – you will never be the same!
_____________________________________________________________________________________________________________________
March 25 through April 1, 2018
March 25 – Palm Sunday, Procession of Palms
Mark 11:1-11; Mark 14:1-15:47
Palm Sunday sets the stage of contrast that is Holy Week: jubilant crowds hail Jesus as God's chosen one; angry crowds call for Jesus' execution.

Jesus' willingness to stand against the powers of his time can guide Christians today: but the cost can be high.
March 29,

7:00 p.m. – Maundy Thursday Service of Communion
With Maundy Thursday we are perched on the brink of the climax to this entire Lenten

journey – the journey to Jerusalem with Jesus.

Set on the eve of the crucifixion, it has a

"last chance" feel and is primed with dreadful
anticipation.

Even when we know, all these centuries later, how the story turns out, we turn the page of this night tremulously aware of what tomorrow brings.

This is the moment to cling to one another and to the presence of Christ; to gather closely as one body and listen carefully with one heart.
"Maundy" is derived from the Latin word, "mandatum," meaning "commandment." The celebration recalls not only the Last Supper but Jesus' last commandment to his disciples:

"love one another as I have loved you."
March 30, 7:00 p.m. – Good Friday Service of Tenebrae
Good Friday picks up the story where we left off on Maundy Thursday.

This is a time torecount terrible events, culminating in utter despair and emptiness.

This is simply a time to let the story get under our skin and mingle with our own losses, grief, betrayals, and

our own resistance to injustice and faithfulness to convictions of the heart, mind and

spirit.

"Tenebrae" is a service of scripture readings that tell the story of Jesus' trial, crucifixion, and burial, accompanied by the gradual extinguishing of candles.
7:30 a.m.

– SonRise Service
The tomb is empty!

What are we to make of it? Those closest to Jesus were shocked andfrightened, amazed and fearful.

How are we to respond, remembering that our journey

through Easter is not yet complete?
8:30 Breakfast is a pot-luck again this year – please bring a dish to share.
The Cross of Jesus Christ is "resurrected" by each one bringing fresh flowers to adorn the empty cross.
9:30 Our Christian Education Ministry Team will host an Easter Egg Hunt for the children.
10:00 a.m. Easter Joy with choir, bells, our children singing, and the Sacrament of Holy Communion.
Grieving and ready to administer burial rites in accordance with tradition, the disciples were confronted by a radical new reality.

The stone was rolled away!

Already they had begun a new transformational journey – a journey that cannot contain the Spirit of Christ

within our own plans, traditions, and expectations of how thing should be.

Can this be an Easter message for us today? Encounters with the Christ draw us into new perspectives, new directions, new understanding, new ways of compassion.
Faith Community in Action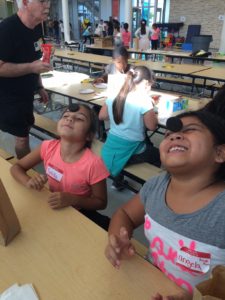 Crossroads Kids Club at Tioga –
One-by-one they arrive at the school – laden with curriculum notebooks – ready to show their identification – allowed to enter the fortress exactly at 3:00 pm – coming with one purpose in mind – to share the love of God and the Good News of Jesus Christ with the Tioga Wolves! (That's the Tioga Elementary mascot – the Wolves).
Our first afternoon of Crossroads Kids Club was a success! Thirty-five 3rd-5th grade students attended with 11 volunteer mentor/teachers from Faith Community. This dynamic team is composed of the following people: Jan Zator, Virginia Skinkys, Marcy Carr, Barb Seltzer, Rexene Carlstrom, Sue and Keith Schmitz, Randy Putman, Leo Figueroa, and Kevin DeCherrie.
The next week we were gifted with forty-five young people with a potential of fifty-four kids with completed sign-up sheets!! Thank God for the growth!! Now we need more mentors!!
With awesome Bible storytelling, science projects, praying, singing, crafts, dancing, games, treats, and prizes, our Faith Community crusaders are prevailing even over the offers by parents of "Either soccer or Kids Club!"
Energized by compassion, commitment, and craziness – this team will continue telling the story of God's Love every Wednesday during the school year – until the last Wolves shall lie down with the lambs!
______________________________________________________________________________________________________________
________________________________________________________________________________________
Helping Hands Circle of Faith Community U.C.C
Helping Hands Circle meets the second Wednesday of each month at 12:30 p.m. in Dettmann Hall.
________________________________________________________________________________________
Food Pantry Sunday is the third Sunday of each month.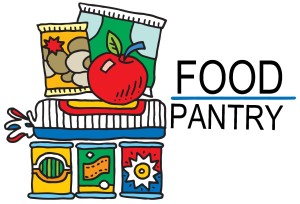 ________________________________________________________________________________________