Monthly letter from Pastor Catherine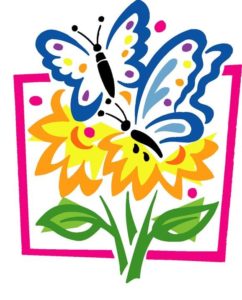 There is an incredible moment that occurs in every worship service. While the choir sings or the special music is offered, the pastor sits in the preacher's chair, looking at those in the pews and remembering their unfinished stories.
These stories have been changed to protect confidentiality.
In the third pew sits a newly divorced young mother with her Kindergarten son smiling up at her. She wonders if she can provide adequately – both financially and emotionally – for her little son. At the other end of the pew is a much-in-love young couple who longingly view the mother-son love fest – they just experienced their third miscarriage and wonder if they will ever be parents.
On the right side half-way back, a mother with her teenage daughter share a private moment, then turn their moistened eyes forward. Their family friend has just lost her husband to cancer and has left the congregation because the she felt unsupported and alone while caring for her husband. On the left side, a long-time member, on her own cancer journey, feels that her faith community asks too many personal questions.
A few seats off the center aisle sits a well-dressed lady who will leave the worship service to go to the Alzheimer's unit of a nearby nursing home to visit her husband. Sitting just ahead of her is a mother with a son in the army who's hoping something will be said about those who put their lives in harm's way.
Near the front on the left, a middle-aged couple show indications of an earlier disagreement; they're still angry with each other. Their teenager, sporting a shock of purple hair, slumps in the pew to make it clear that he is angry about being dragged to church. A few rows back, a young father cradles the baby girl the pastor baptized a few months back. He tells himself that she will never grow-up to have purple hair. Two pews behind him is an older couple whose daughter is a wildly successful attorney in Chicago. She never talks to them.
The music comes to a crescendo and final cut-off.

All are seated. The pastor stands and reads the Lectionary Bible scriptures for that Sunday – then walks down the chancel steps –

to deliver God's word for the people.
Part of the pastor's call is to maintain a sacred conversation between God and the congregation. Hopefully, the pastor has spent all week listening to God's side of the conversation while carefully exploring the Sunday scripture text.

When the pastor leaves the church building to make visits to the hospital, bring communion to the nursing homes, or ponder the underlying story of the angry man who is trying to hijack the Council meeting agenda, the sacred words of the biblical text are still swirling around as a third voice in every conversation. Throughout the week – back and forth between the pastor's study, the community, newspapers, literature, movies, and even the quip from the grocery store clerk – the carefully heard words just keep piling up before the sermon can be written.
The pastor's heart is a vessel for mixing together the holy words with the incredibly diverse words of hope, grief, anger, regret, love, gratitude, anxiety – the list seems to have no limit. There is no common theme and yet all the people in the pews are hoping God will have a word for them. So – what does it mean to deliver God's word for the people?
After preaching in four congregations filled with very different people, I have learned to stop trying to do the Holy Spirit's job. There is no way to write a sermon about marital vows, grief, the aspirations versus the realities of parenting, and illness, and the congregations problems, and anxiety about war. Nor should a sermon every try – for that would allow the congregation's many voices to set the agenda for the sacred conversation, and it would limit preaching to peddling holy advice.
Seminary didn't prepare me to be a therapist, motivational speaker, or manager. It trained me to think theologically. My sermons may spiral back and forth between God's voice and ours, like all good conversations, but in the end the gospel always gets the last word.
While I would never preach about purple hair, I may find that the same text has much to say to parents as it does the new widow, or to those who want to know when I am going to start fulfilling their expectations. Maybe the text that day offers something about our created limitations and our common need to receive and give grace. It's up to the Spirit to take it from there. That means at least I have to believe I'm not just talking about the word; I'm proclaiming it, and it will be used however God determines.
Like most pastors, I've been humbled to hear people thank me for saying something profound that I didn't really say. I take that to be the work of the Holy Spirit, who knew better than I what they needed to hear.
I'm responsible for the sermon but not the hearing of it. I get that. I am certain – it would be a very different sermon if I didn't spend the week listening to God and the congregation as they try to talk to each other.
Blessings on the Way of Jesus Christ,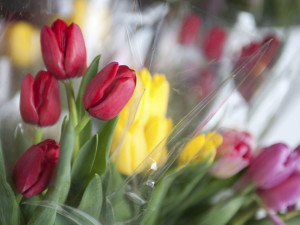 I was staring out my living room window last week when I noticed something strange, an eruption that happens year after year and still manages to be startling.

The fuzzy little things on the tree out front had sprouted into color, a dash of red, and a splash of green, tufts that barely qualified as leaves, and yet the whole tree looked plumper, like a dry sponge soaking up water.
When did this happen? Overnight? An hour ago?
As I peered through the window – through the filth unique to windows at the end of a Northern winter – the opening of Philip Larkin's poem "The Trees" popped into my mind:
The trees are coming into leaf
like something almost being said:
the recent buds relax and spread,
their greenness is a kind of grief.
Up here in the bitter climates, we wait and we wait, despair and wait some more, put the snow shovel away and take it out again, and finally, just when we're ready to give up, color returns. You turn your back for a minute and when you turn around, there's patch of new green grass.
Most of us have learned in school (though some of us forget) that in the fall, trees pull nutrients out of the leaves causing the leaves to lose their green and fall. That's the way trees get ready for winter when the ground is frozen, water's not available, and essentially drought sets in for six months.
Then, as daylight gets longer, and the soil and air get warmer, the trees start to draw water in through their roots. They pump it to the cells that have been waiting for water in much the way deflated balloons are just waiting for a little air. The watered cells expand and, there you go, buds.
As I get older and experience ever more the sorrows of human life, I feel a pressing need to know, again: What makes the seasons happen? How does spring – how does life – return?

Watching the mystery of spring unfold is at least as good as watching any movie, even a long-awaited sequel or finale. And the best way to watch it is to go outside, where every day, hour-by-hour, the world is opening to new life – resurrection!
I write in the middle of April knowing that you will read this in early May.

REAL Chicagoans know that it could still snow, we're not safe until Memorial Day. But the leaves are coming back, which brings us back to "The Trees" which can be found in its entirety at
http://www.poetryarchive.org/poem/trees
Here are the final lines:
Last year is dead, they seem to say,
begin afresh, afresh, afresh.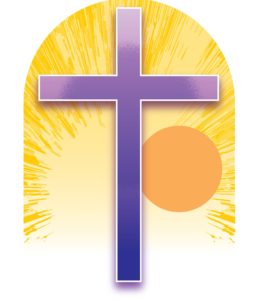 After the first Easter morning, nothing for the followers of Jesus was ever the same again.
Up until that point, Jesus might have said and done some perplexing things but nothing that couldn't be understood in his role as a teacher and miracle-working prophet. Others had come preaching peace and love. Others had come working miracles. Others had travelled as itinerant preachers. Others had died at the cruel hands of the Romans. But on Easter morning all of that changed.
Now Jesus was present with his followers in a new and radical way. Each time he was present in those early days, his followers didn't always recognize him at first. He was the same Jesus and yet he was somehow different, and he promised to be present with then from then on in a different way than walking alongside them on the dusty roads of Palestine.
Jesus' great prayer, in the gospel of John, prepares disciples for a new and radical presence, which will transform their relationships with each other so much that they become like the relationship between Jesus and God; united in oneness.
This is the community to which we are called by God in this Easter season, a community of oneness in our faith in Christ in which love is our highest aspiration. A community where for the sake of our life together we are willing to see things as they really are not as we might like them to be, or might fervently wish they were, or as we think they should be, but actually as they are

In the loving care of community we can have the courage to look, clear-eyed at ourselves, knowing that we are loved by God – as we are, not as we wish we could project ourselves to be.

We can speak and act truthfully when we see injustice and unfairness in our families, our communities, and beyond.
"That they may all be one" – is our United Church of Christ motto – and the hope and prayer of our Savior.
Blessings on The Way of Jesus Christ,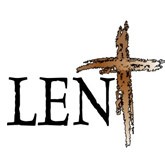 Lent is an opportunity for spiritual and personal examination, a time to study our relationship with God and others, and a time to improve those relationships and make them more meaningful.
But our desire for a deeper connection to God, one another, and all of God's creation has to compete with the rest of life. Our spiritual practices go up against our everyday lives, busy schedules, work and family demands, emotional trials and more.
We might feel our wheels spinning, that we are in the same place we were last year, as if our lives were one ongoing circle. If we pay attention, it is something else. We are never in the same place as we were last year or any other year. We have, perhaps, moved a little further into the mystery of our existence and, at the same time, perhaps a little further out into the mystery of the world.
This season, as we explore the lectionary texts, we move into the mysterious heart of our individual and communal relationship with God. Many of our scripture texts begin with huge promises. We've already read of the promise made to Noah and the promise made to Abraham and Sarah – those are big promises for them and their families that are also promises for the whole world. Neither of these stories simply ends with the giving of the universal promise – no, each of the promise hearers must become, on the journey into their own lives, promise receivers. Each of them must struggle to understand, as we do in this season, what it means to inhabit and live out of these world-changing promises.
How would you like to feel and think differently about yourself and the world by Easter?
Blessings on The Way of Jesus Christ,
February 2018
Dear Faith Community,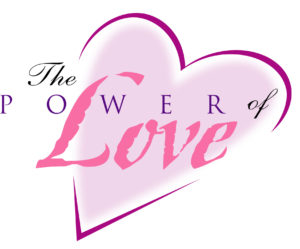 In my area of the world, we worry a lot about the future of the church.
We see mainline denominations shrinking, evangelical growth losing steam,
and little churches withering away, closing their doors, becoming nothing
more than graveyards. The facts are scary and the stories painful,
but there is good news. Because we are gospel people, and death is not the end.
Rev. Karen Ware Jackson – Presbyterian minister
On February 14, Valentine's Day, we enter the drama of Lent and Easter – which is everything. It is the whole of the Gospel – dying, rising and living.

It is heartbreakingly real, authentically true, and totally transformative. We often think of Lent as a dark moment in the church year – a movement into the center of our hearts, to examine, simplify and prepare for Christ's death. And this is no peaceful death. It is unexpected and brutal and much too soon. How can we prepare for such a loss?
Instead of turning inward, the scriptural texts direct our gaze to God's signs of covenant and blessing stretching across the sky, echoing through the generations, pouring from the heavens, and calling throughout the nations. We remember the simple, human people who first heard and then responded to the gift of God's Son. When we finally look inward, we find amidst the brokenness God's law of love written upon our hearts.
We may never be ready for the searing pain of loss, but the scriptures remind us that life prevails; God's love endures.
Please see further articles in this newsletter for ways that you, personally, might engage in the heartbreaking, authentic, and transformational experience of Lent – you will never be the same!
Blessings on the Journey,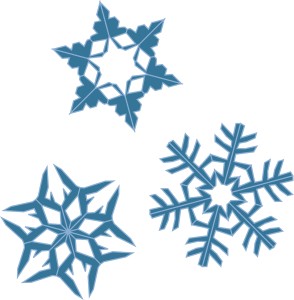 To begin our Crossroads Kids Club meetings, we have a list of questions to help start conversations with the kids – crazy questions that make them think. One of those questions is:
"Would you rather say everything that is on your mind all the time or never speak again?"
To actually utter every word you are thinking – even after encountering rude and dangerous Chicago drivers – may make some people pause and decide that never speaking again would be the best option.
As some of you may know, I've had a bit of a problem with my speaking voice for at least two, if not as many as six, years. Each year, somewhere around September and continuing through April, my vocal chords become so aggravated by post-nasal drip, phlegm, and coughing that I get laryngitis and, recently, nodes form on my vocal chords inhibiting my ability to speak with my natural voice. For one called to preach the Good News of Jesus Christ . . .

this lack of voice is frustrating to say the least. I get a glimpse of what it would be like to never speak again . . .
Jesus said to him, "What do you want me to do for you?"
The blind man said to him, "My teacher, let me see again."
"Go," said Jesus, "your faith has made you well."
Immediately he received his sight and followed Jesus along the road.
Mark 10:51-52
Looking at a man who was blind, we read that Jesus saw his faith. I wonder what Jesus saw? What does faith look like?

Have you "seen" faith? When someone looks at you do they "see" faith? Does God?

I am not sure what faith looks like exactly. But I'm pretty sure it looks like trust. Trust and a willingness to take a risk. And something more, often faith has an "in-spite-of" quality or look to it. Trusting and opening your eyes despite being blind; accepting the momentary weakness for life change; believing and going when it's hard to do so and against the visible evidence.



I have these words on a piece of paper in my Bible:

"There is, in the universe, a power forever on the side of those brave enough to trust it." I think this means that faith, despite all, means keep showing up just as fully as you possibly can, even when it's hard, even when you feel or are crippled in some way (aren't we all?), keep on trusting wildly in God.

Are you living in faith, by faith these days? Can others see faith in you? Make your faith visible today and, while you have breath, tell others of the One in whom you have faith. Lord knows, we need it. We need you.

In the love of Christ,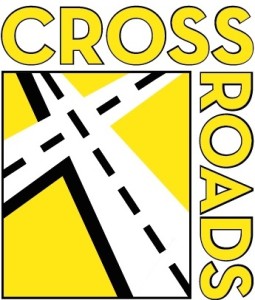 Crossroads Kids Club at Tioga
~ Faith Community in Action ~

One-by-one they arrive at the school – laden with curriculum notebooks – ready to show their identification – allowed to enter the fortress – coming with one purpose in mind – to share the love of God and the Good News of Jesus Christ with the Tioga Wolves! (That's the Tioga Elementary mascot – the Wolves).
Our first afternoon of Crossroads Kids Club was a success! Nine 3rd-5th grade students attended with 13 volunteer mentor/teachers from Faith Community. This dynamic team is composed of the following people: Jan Zator, Virginia Skinkys, Kathy Dewart, Barb Seltzer, Heather Smith, Rexene Carlstrom, Sue and Keith Schmitz, Randy Putman, Leo Figueroa, Kevin DeCherrie, and Jim Hamill.
With the leadership of Pastor Catherine and Matt Armstrong (founder of Crossroads Kids Club) this tremendous team prevailed against the unexpected onslaught of PTA parents competing for space and attention while setting up their Book Fair in our shared space. But with awesome Bible storytelling, science projects, praying, singing, and dancing to the "Nae Nae" video, our Faith Community crusaders prevailed even over the offer by a mom of either soccer or Kids Club!
Energized by compassion, commitment, and craziness – this team will continue telling the story of God's Love every Wednesday during the school year – until the last Wolves shall lie down with the lambs!